Dino-Basketball
Written by Lisa Wheeler
Illustrated by Barry Gott
Reviewed by Logan S. (age 7)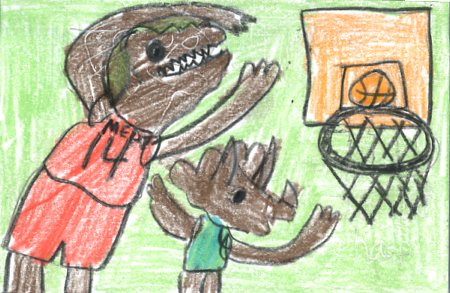 In the book Dino-Basketball, it is March Madness time. The Grass Clippers are playing the Meat. Raptor scores first for the Meat, but Triceratops scores for Grass to tie the game. The teams battle and get fouls. The score is tied again, and the crowd goes crazy. T-Rex passes the ball to Gall and scores! The Meat win the game!
I like the end the best when Allo holds up the trophy because he makes a funny face. T-Rex is my favorite character because he assists with the winning basket. This story relates to my life because it is all about basketball and I play basketball too. The pictures show what is happening and show what the words say.
Others should read this book because it is exciting. It is funny, suspenseful, and entertaining.