Mr. Putter and Tabby Catch the Cold
Written by Cynthia Rylant
Illustrated by Arthur Howard
Reviewed by Ryan T. (age 7), Kei E. (age 6) & Radhesh G. (age 6)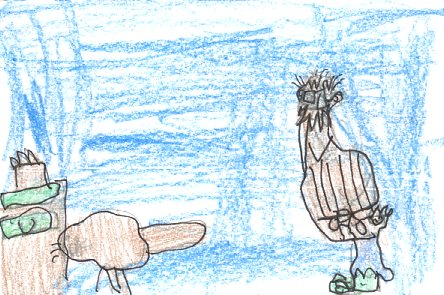 Mr. Putter and his cat Tabby go outside on a cold day. Mr. Putter forgets his hat and catches a cold and Tabby does too. Mr. Putter doesn't want to go to a house and says he feels fine. His neighbor Mrs. Teaberry and her dog Zeke bring over some water. Mr. Putter feels better and Zeke goes home wagging his tail because he helped.
Our favorite part is when Mr. Putter sneezes on the phone because it made us laugh. Our favorite character is Zeke because he is very entertaining. This story relates to our lives because we've all gotten sick before. The pictures help tell the story because they show everything that happens.
We think others should read this story because it's funny and will make you laugh. It is very entertaining.