Dragon Slippers
Written by Jessica Day George
Reviewed by Jinhee F. (age 9) & Helena B. (age 9)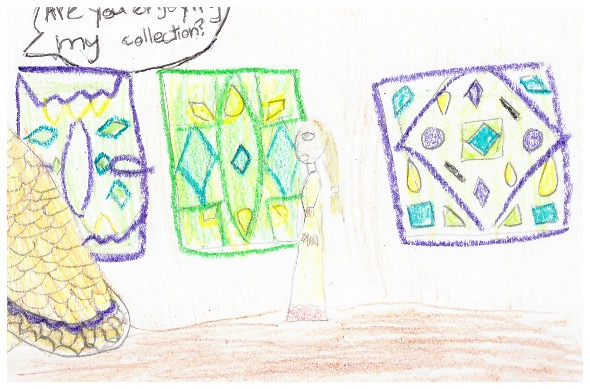 She wanted dragon gold, but she got a pair of shoes! Come join Creel on an adventure as she meets dragons and meets a prince by reading Dragon Slippers by Jessica Day George.
To begin with, Creel is sent to a dragon cave by her aunt who wants gold. When she talks to the dragon, she finds out that he does not have dragon gold, but he does have loads and loads of shoes. When she makes a deal with the dragon, she gets to pick out a single pair of shoes. But what she doesn't know is that her slippers could save her kingdom, or destroy it. She meets dragons as she journeys through the kingdom to find work.
In addition, Creel is our favorite character. This is because she is determined, brave, kind and friendly. Our favorite part of this book was when she first met Shardas. We like this part because it was the beginning of a great friendship. Creel reminds us of ourselves because she is very brave, and we both love living creatures, and we both are kind.
In conclusion, I would recommend this book to anyone who likes an adventure filled book. So check it out at your local library today!!!