Imagination According to Humphrey
Written by Betty Birney
Illustrated by Betty Birney
Reviewed by Jeremy T. (age 8)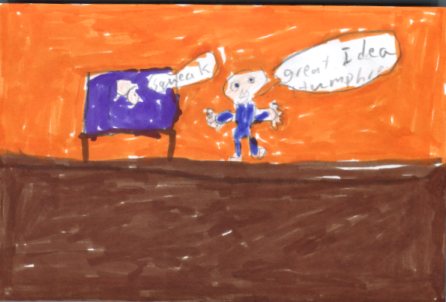 I'm reading Imagination According to Humphrey by Betty G. Birney. Humphrey is an unusual, adventurous class pet that loves to help kids in Room 26. Humphrey also loves to do what the kids in Room 26 do. In the beginning, Humphrey is trying to write a report that the students were assigned from their teacher Mrs. Brisbane. Humphrey tries to write it in his little notebook, but he can't think of anything. In the middle Humphrey is trying to help his friend Sophie with her problems. When Sophie's little brother was crying, Humphrey saw him and cheered him up by squeaking. Humphrey is already struggling with the report, but now he has to write two sentences. In the end, Humphrey goes home with Rosie and Joey comes over. Rosie tries to help Joey with the report that Mrs. Brisbane assigned. She and Humphrey try to help by acting like animals because Joey is writing about animals. Now Humphrey has to write a paragraph. Read the book to find out if Humphrey and Joey ever finish their reports.
I think Humphrey is funny. I know because Humphrey's friend Joey is having trouble writing a report about the animals in Africa. So Humphrey acts like a monkey and swings from his tree branch. And that is a creative and funny way to help a friend with writing a report. I also think that Betty. G Birney did a great job with being descriptive. I know because when Humphrey is feeling a strong emotion she writes it in bold capitals three times. For example when Humphrey is happy she writes GLAD-GLAD-GLAD or if he's cold she writes COLD-COLD-COLD. My last opinion is that Humphrey reminds me of myself. I know because Humphrey loves to help people. An example is when Gigi, another class pet is scared of the lighting storm. Humphrey gives Gigi a pep talk. And I would do that too.
I would recommend this book to 3-5 graders who like funny animals that like to go on adventures. Also those that like reading books about helping people and working together would enjoy this book as well.