Junie B. Jones
Written by Barbara Park
Illustrated by Denise Burks
Reviewed by Emma S. (age 7)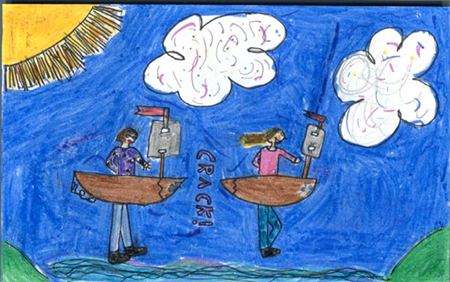 Junie B. Jones is a first grader who says funny things and speaks in an amusing way. She is going to be in a play about Christopher Columbus. She is the first to choose her role. She chooses to be the ship the Pinta. But in the play, she crashes with the other ships! Oh no! What will happen to the play?
I enjoyed this book because it is like real life. For example, I have a younger brother who is just like Junie B. Also, it made me feel glad, sad and angry at different times. For example, I felt angry when Junie B. yelled to her mother while she was taking care of Junie's baby brother because I like babies and you shouldn't yell at them. Junie B. has a unique way of pronouncing words, it sounds funny when you read it. The pictures are black and white, but very detailed and add to the story.
I recommend this book because it is funny and it will make you laugh out loud. I also think that you will like Junie B.'s strong emotions and opinions.