Jenius The Amazing Guinea Pig
Written by Dick King-Smith
Illustrated by Brian Floca
Reviewed by Sofia M. (age 7)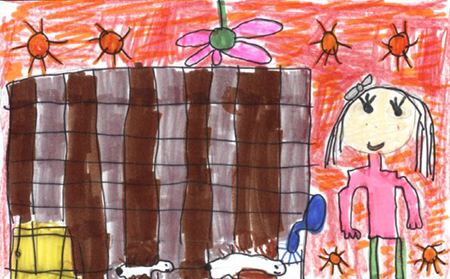 This book is about a guinea pig called Jenius and a girl named Judy who wants to teach the guinea pig some tricks. For example, she teaches him how to sit. She talks about being a princess and having guinea pigs all over her castle. She brags about being able to teach him all sorts of tricks, but learns that bragging might hurt someone's feelings.
I really like animals and my favorite is a guinea pig, so I thought I would like this book. I liked the story because it was funny. For example, when Jenius' dad said that he would eat his water bottle, if Jenius opened the gate. I liked how Judy was determined to teach Jenius those tricks. When you are determined, you can do whatever you put your mind to, even if people don't believe you.
I would recommend this book because the story is hilarious and the guinea pig makes it very cute as well. If you like animals and especially guinea pigs, you might like this book too. I would give this book five stars.