Mr.Potter's Pet
Written by Dick King-Smith
Reviewed by Lily M. (age 8)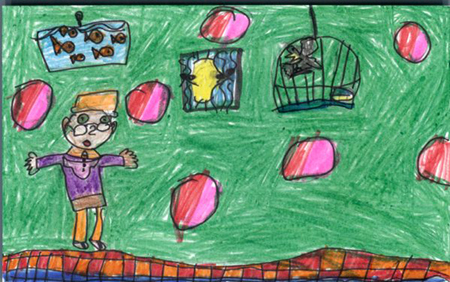 Mr. Potter's Pet takes place in one of my favorite places, England. They say things that you would only have people from there say. Mr. Potter's parents don't let him have a pet which is very upsetting to him. Find out what he does when they die unexpectedly.
This is a really, really funny book because Everest, the mynah bird says "bad" words. It reminds me of my family because sometimes we say bad words, but try not to. Mr.Potter thought he could train Everest to be friendlier but he found out it is harder than he imagined. It also has a lesson about keeping wild animals. Mr.Potter is able to train Everest to do many things. Everest is more like a smart dog than a regular backyard bird he is a highly intelligent mynah bird who can mimic anything.
I recommend this book because it is laugh- out-loud funny. Dick King Smith's books are all about animals and if you like that you will love his books, like I do.