There's a Wocket in My Pocket!
Written by Dr. Seuss
Illustrated by Dr. Seuss
Reviewed by Ben K. (age 7)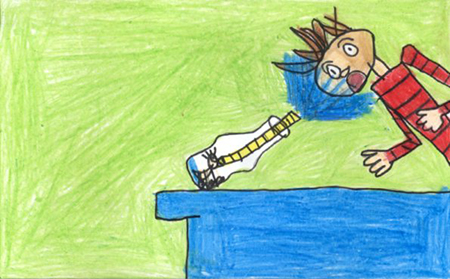 In this book there is a kid, we don't know his name, that lives in a house. He has weird animals living in his house too. Some of the animals are nice and some of them do strange things. The kid tries to talk to the animals, but they don't really talk back. It is a book full of strange critters.
I like this book because, like mostly all of Dr.Seuss' books, it has funny rhymes in it. Dr. Seuss is my favorite author. The animals are funny, they make you laugh. The illustrations are really good, that is one of the reasons I like his books so much. Sometimes I like to copy his drawings. I wonder why all of these strange critters live in his house. I think Dr.Seuss must like funny things because his books are hilarious.
I recommend this book because it is funny. It is a good book to relax to. I think a lot of kids would enjoy it.