Magic Tree House Dingoes at Dinnertime
Written by Mary Osborne Pope
Reviewed by Liam H. (age 7)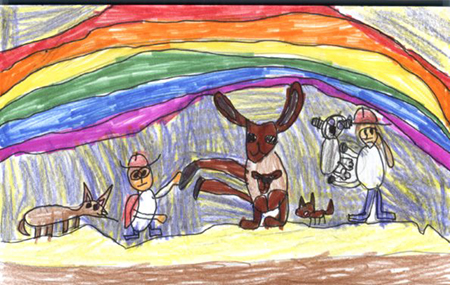 Dingoes at Dinnertime is part of the Magic Tree House series. Jack and Annie, the main characters, have a special tree house which helps them go on a mission in the past. Jack and Annie are off to a new adventure in Australia. You will meet two kangaroos, three dingoes and a koala bear. Will Jack and Annie complete their mission?
I liked this book because Jack and Annie were heroes! They saved a baby kangaroo from the mean dingoes who were going to eat the joey. Jack and Annie saved the day and finished their missions by finding a gift to break the spell that was cast on the dog.
This book reminds me of the other Magic Tree House books because there is a mission that Jack and Annie have to complete. When I read these books I feel happy when they complete their mission, but sometimes I feel nervous when things go wrong.
I would recommend this book for ages 6 - 10 because it has descriptive words. The characters and places that they meet maybe scary for younger readers. I give this book 5 stars.