Frog and Toad are Friends
Written by Arnold Lobel
Illustrated by Arnold Lobel
Reviewed by Carlos G. (age 8)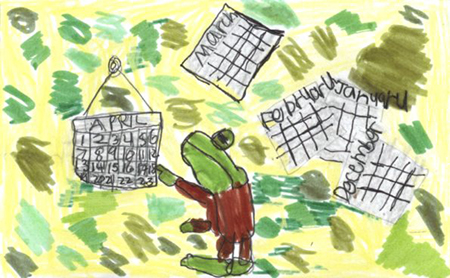 The main characters are Frog and Toad. Toad was trying to think up a story and poured water on his head. Toad and Frog are in a house. Frog and Toad talk about old age.
Frog was ripping off calendar months. He tried to wake Toad up. Toad hit Frog with a club because he wanted to sleep.
My favorite part was when they went down river. Toad put on his bathing suit but frog did not. They swam all day. I also liked it when Toad poured water on his head and when Toad banged his head against a wall.
I recommend this book because it is funny! This book reminds me of some of Dr. Seuss' books. Reading this book I felt awesome because I liked the story.
I give this book 5 stars.