The Magic Tree House "The Day of The Dragon King"
Written by Mary Pope Osborn
Illustrated by Sal Muduca
Reviewed by Erika F. (age 7)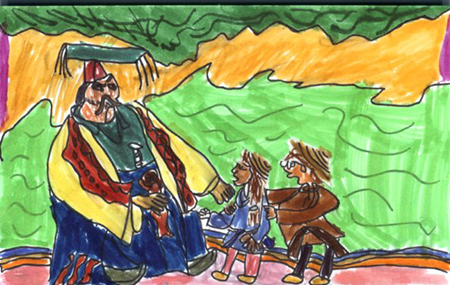 In the Magic Tree House series, two kids called Jack and Annie try to get a book from the Dragon King, but the king wants to burn all the books. Find out if Jack and Annie are successful in stopping the king. They go back in time to Ancient China and the time of Emperors.
I liked this book, particularly Annie, because she is a brave and adventurous character and I can relate to how she is a go-to girl. The story makes you feel as if you are really in Ancient China and have to outsmart the Dragon King. Part of my family is from China and liked learning about it while reading this book. I learned that China is famous for making silk. The silk is very delicate and some silk was so special that it was kept a secret so others couldn't have it.
I recommend this book because it is a page-turner and you will not want to stop reading it. All the Magic Tree House books are good but this is one of the best.