Andy Shane and the Very Bossy Dolores Starbuckle
Written by Jennifer Jacobson
Reviewed by Sammie C. (age 7)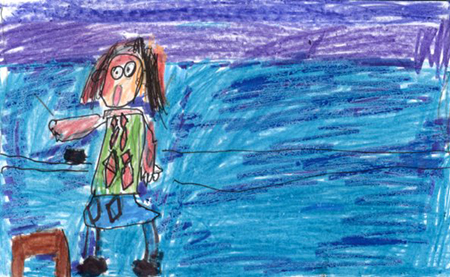 Andy Shane meets Dolores Starbuckle who makes elementary school very unpleasant because she is "too bossy." No one can answer a question except Dolores until Granny Webb enters the scene. Will Andy and Dolores ever become friends?
I liked this book because both Andy and Dolores learn an important lesson. They learn not to be too bossy. If you are bossy no one will listen to you, other kids will not want to be your friend and you will end up being lonely. I also find the story very funny. For example, Granny Webb was dancing all over the place and she looked silly. It reminds me of how I am sometimes with my brothers. I can be bossy to them and they can be bossy to me. They don't like it if I am bossy to them and I don't like it if they are bossy to me. Better to not be bossy! The illustrations are great, they are black and white and they have lots of texture and detail.
I recommend it to kids who like black and white drawings. I also think that second graders would like it. It is a just right book.