Mr. Popper's Penguins
Written by Richard and Florence Atwater
Illustrated by Robert Lawson
Reviewed by Violet B. (age 8)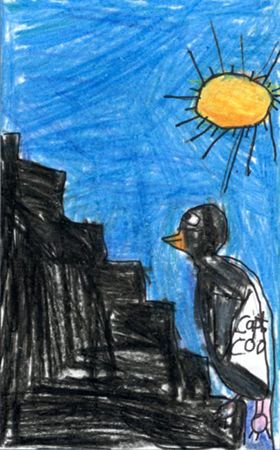 Mr. Popper loves the Arctic and Antarctic. He watches movies and reads books about them but when he sends a letter to Admiral Drake, something overwhelming happens!
This book was unique because it was about a normal man who gets penguins. The few illustrations in this book were very funny. I also liked Captain Cook because he says, "Ork" and "Gaw" which make me laugh. Good readers would enjoy Mr. Popper's Penguins because the vocabulary is difficult, but also funny. You will also learn something about keeping wild animals as pets.
I really liked Mr. Popper because he is very funny. I learned that you should never take care of a penguin inside your house. I felt I was part of this book because my dog is a little like the first penguin. My favorite part was when Captain was riding down the stairs.