Mallory in the Spotlight
Written by Laurie Friedman
Illustrated by Jennifer Kalis
Reviewed by Julianna R. (age 9)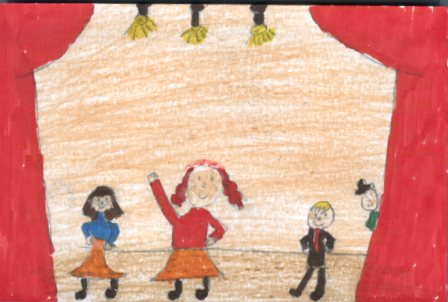 In the book Mallory in the Spotlight by Laurie Friedman we meet Mallory, a friendly girl who attends Fern Falls Elementary. In the beginning, Mallory wants to be in the play "Annie". She tries out for the play and hopes she and her friend will get good parts. The day the cast list comes out Mallory looks at the cast list and sees her name on the top of the cast list. Unfortunately her friend's name is not on the list. When Mallory starts rehearsing, her friend starts acting like she is not her friend anymore. Read the book to find out if Mallory's friend will be her friend again.
In my opinion, Mallory in the Spotlight is a good book. My favorite part is when I find out that Mallory gets the lead because that made me happy and made me smile. My favorite character is Mallory because she is like a real person. I know this because sometimes she makes mistakes. For example, it says when Mallory writes something mean to her friend, Mallory wants to apologize. I like this book because it is interesting. I know this because in the story her teacher, Mr. Knight writes "Annie" on the board before any students knew about the play. It made me wonder why he wrote that word.
I recommend this book for grades 3-5 because Mallory is in the fourth grade and most people in the grades 3-5 will go through similar problems. For example, people in grades 3-5 might go through auditions. Also if you like books about friendship you will like this book because Mallory and her friend have friendship problems throughout the book. I hope you read the book and enjoy it!