Flat Stanley: Stanley and the Magic Lamp
Written by Jeff Brown
Illustrated by Macky Pamintuan
Reviewed by Jake L. (age 8)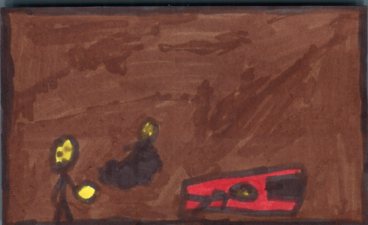 In Flat Stanley and the Magic Lamp by Jeff Brown, Stanley touches his lamp and a genie comes out. Arthur get scared and jumps under his bed. Later his parents come up and then Stanley wishes to have a lion but he realizes that people will think it is scary! So he wishes for an elephant and the two mix. But then Stanley and Arthur make a wish for the genie! You have to read to find out.
Flat Stanley and the Magic Lamp is great! I like the illustrations because when different things happen the characters expressions change. In the pictures, when prince Haraz comes in the room Arthur gets scared and his expression is scared. I like the authors writing style because he adds a lot of details. There are parts of the story that don't help the problem but make the story more exciting! When Mr. Lamchop gets ready to play tennis with Tom McRude someone in the crowd sneezes. Tom McRude says get out of here! I like the lesson that is learned which is not to cheat. In the story they use magic to beat the best tennis player. They become famous for beating him and they get tired of being crowded by people and don't feel happy in the end.
I would recommend this book to elementary school readers. Elementary school readers would enjoy this book because the lessons are honesty, loyalty, compassion, perseverance, and acceptance. I have been reading this series since first grade and I like it a lot. You should go and get this book soon and see what they do with all the wishes in the end.