Flat Stanley's Worldwide Adventures: The Intrepid Canadian Expedition
Written by Jeff Brown
Illustrated by Macky Pamintuan
Reviewed by Matthew H. (age 8)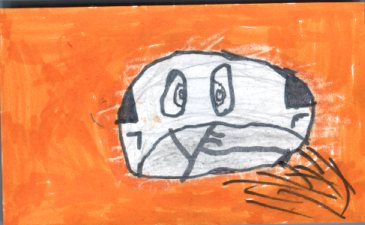 In the book Flat Stanley and the Intrepid Canadian Edition Stanley, Nick his friend, and his brother Arthur were all skiing and snowboarding. Arthur sprained his ankle while going over a bump. While Arthur is recovering from his sprained ankle Nick and Stanley go to a snowboarding championship. Then when they get there they both see it is a challenging course. So they took a ski lift up the mountain. Then when they got up the mountain Stanley laid on the snow and Nick stepped on. They were both very nervous. Next Nick and Stanley went to Niagara Falls. They were both amazed. Stanley got stuck in a wind current. Nick tried to help him and he did but he fell off the rail and just in time Stanley curled him up and saved him. The next morning Nick and Stanley woke up to their parents.
I think this is a great book. I like this book because the illustrations are very easy to know what they mean. In the story, Stanley's brother Arthur sprained his ankle and the illustration shows his ankle is like a bubble. I like the author's writing style because he added lots of details. In the story the author adds little details in the beginning or end of every sentence. One of them is when Stanley was being Nick's snowboard and the author was adding extra details like they were both swooshing through the snow and gliding in the air. I have a personal connection because of when I went skiing. The part of the story that is about skiing and snowboarding is in the beginning, Stanley and his brother are there skiing and Nick is snowboarding.
I recommend this book to people that like expeditions. One reason why is because Stanley in this book goes on a very snowy expedition. Also in the story Nick and Stanley enter a snowboarding championship. If you are interested in this book you can ask your parents for a couple of dollars and ask for a ride to the bookstore.