The Boxcar Children - The Canoe Trip Mystery
Written by Gertrude Chandler Warner
Illustrated by Charles Tang
Reviewed by Gianna C. (age 8)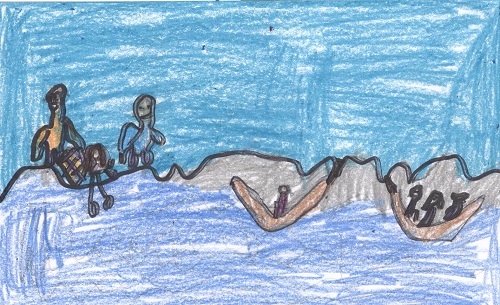 The Boxcar Children are going on a canoe trip! If you like mysteries this book is for you. The children are going with their Aunt Jane, an expert canoeist. When they are renting their canoes they meet a woman named Angela who tells them to stay out of the lake. Her threats do not stop the children. When they start camping at their camp site they find a poem on a rock. They hear wolves outside their tent, they see a bright light in the middle of the night, and their gear is stolen. Who is Angela and what do these things mean? Could they be related to the theft of a valuable coin collection?
I liked this book because it is very mysterious and exciting. My favorite parts are when the canoes get separated in a storm and the children save Angela from the rapids. This book is part of the Boxcar Children series. It is similar to the other books in the series because they have the same characters Jessie, Henry, Violet, and Benny. My favorite character is Violet because she is crafty. I think Violet is like me because we both like to draw and paint.
I recommend this book to kids in grades 2-6. Also kids who like exciting twists and don't mind getting nervous. This is a great book and you never know when Angela may pop up to spook you, threaten the children or steal their gear! There are 120 pages and a note about the author. If you like excitement with a pinch of fear, you should read this book!