Quest for the Golden Apple
Written by Megan Miller
Reviewed by Abby R. (age 8)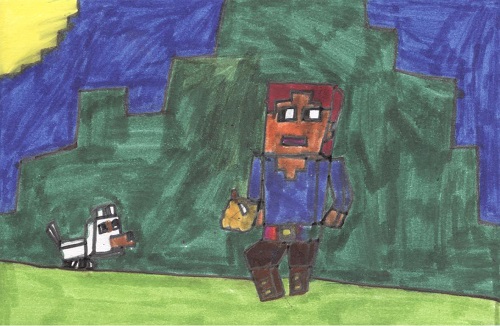 If you like mind-blowing adventures, wolves, monsters, witches, and scary scenes, you will love Quest for the Golden Apple. It's about a young girl named Phoenix. She travels around the world to find a cure for her zombie brother. On the way she meets three green monsters and an old woman. Can Phoenix trust these people? And can she survive the dangerous journey to find the golden apple?
I think the story was an awesome adventure. Every page you turn, you don't realize a surprise is about to strike. My favorite part of the story is when Phoenix the young girl saves a baby wolf trapped by the ravine. The part is so sweet and it also shows an act of love and kindness. I like the characters Phoenix, Geraldine, Alistair, Percival, and Misssandroth. All of these characters like traveling. The unique thing about the book is that Phoenix risks her life to save someone she loves. Also, the characters never give up!
I recommend that people of all ages should read Quest for the Golden Apple. It is an exciting book that will make you want to read every chapter. This book is for people who love action, adventure, and lots of ….wolves. The story is also good for people who like drama, monsters, witches, and the right amount of violence. The part when the monsters try to protect Phoenix is very interesting. But why are they protecting the young girl? Read the book to find out!