A-Z Mysteries: The Haunted Hotel
Written by Ron Roy
Illustrated by John Steven Gurney
Reviewed by Sophia Z. (age 9)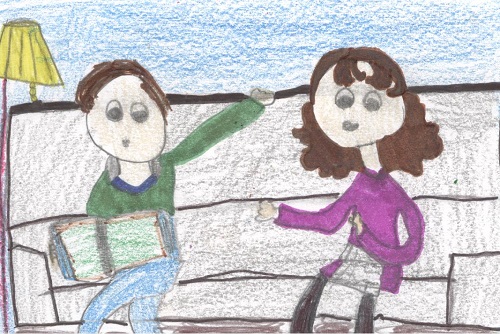 If you like to read mystery books this book is good for you. It's about how Ruth Rose, Josh and Dink try to get rid of a ghost in the Shag-Rala Hotel. But they get scared too. Josh says he wants…oops, I told too much! Read the book to find out what happens next.
I believe this book is a good book because it was a good mystery and has a really good suspenseful ending. I found Mr. and Mrs. Jeffers interesting. They were very nice to everyone throughout the book. Also, every single word that came out of their mouth was said with a lot of expression. Also, Mr. and Mrs. Jeffers are mysterious, too. I liked the part when Dink, Josh, and Ruth Rose went to the diner and found out who was haunting the hotel because the people who haunted the hotel were at the diner where the three kids were going. This book belongs to a series called A to Z mysteries. It is a very good series. I think you should read it!
I think other kids should read this book because it is a mystery book with a really good ending. I recommend kids who love mystery books and happy endings should read this book. I think this book will be good for second to fourth graders.