Captain Underpants and the Invasion of the Incredibly Naughty Cafeteria Ladies From Outer Space
Written by Dav Pilkey
Illustrated by Dav Pilkey
Reviewed by Abigail R. (age 8)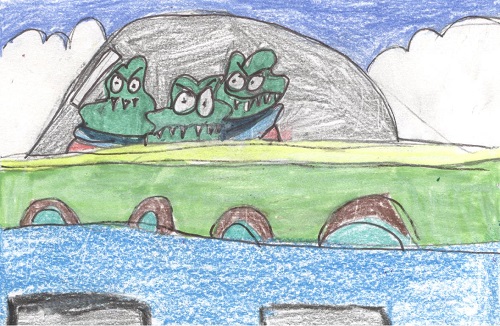 I strongly believe kids should read the Captain Underpants series because it is mind-blowingly funny. Also, if you like monsters then you would probably like Captain Underpants. In this book aliens invade a school and everything goes wrong. Can Captain Underpants save the day? Read the book to find out!
I strongly believe that this is a fantastic book. I love monsters and there are monsters all throughout the book. It is also really funny! In this book there are some black and white pictures that were great because they made me laugh. The pictures were like a comic book. They really helped me understand the book better. In this book I laughed a lot. A funny part is when the boy aliens dressed like girls! It was so funny. While I was reading the book I thought about what might happen next at every page. I loved this book.
I strongly believe that others should read the Captain Underpants series. The Captain Underpants series is so hilarious! A reader who would like this book would be someone who likes funny, action packed books. This is a very funny and interesting book that is full of action. It is kind of like a comic book, too. Kids ages 7-10 would like this book.