Judy Moody Gets Famous!
Written by Megan McDonald
Illustrated by Peter Reynolds
Reviewed by Elizabeth N. (age 8)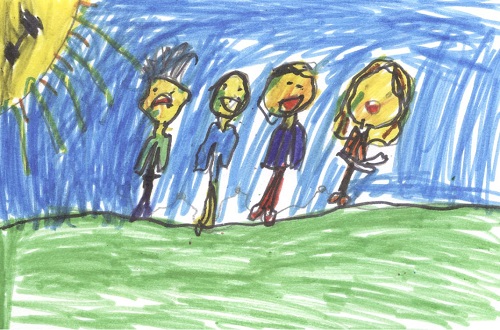 If you like funny, silly books you should read Judy Moody Gets Famous! It is about a girl named Judy who does a lot of really funny attempts to get famous. Everyone else is famous but Judy. Does she succeed in becoming famous? Read the book to see!
Speaking for myself I thought this book was great. The characters were absolutely hilarious. My favorite part of the story was when Judy stepped on Frank's finger by accident. As I read the book I felt Judy should just be herself. I wonder why Judy wants to be famous so bad. This book taught me to always be myself. I think this book is unique because the pictures aren't colored in, they are only black and white, so you have to picture the colors in your head. The pictures helped me understand the book better. For all the reasons above, I feel this is a unique and awesome book.
I think other kids should read this book if you like books in a series. Also if you like characters that keep on trying, you will love this book. I think people that would like this book would be people that don't give up. You might like this book if you like stories where people keep on doing funny attempts to do something. I recommend this for 2nd-4th grades.