Ballpark Mysteries: The Rangers Rustlers
Written by David A. Kelly
Illustrated by Mark Meyers
Reviewed by Matthew M. (age 8)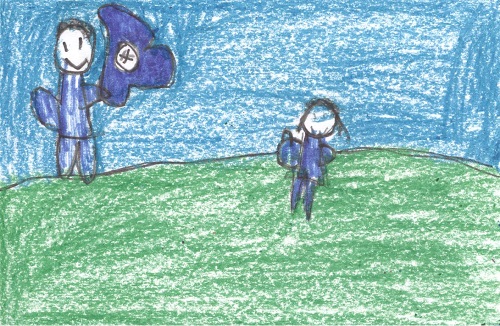 Do you like mysteries? Then you would like Ball Park Mysteries. The main characters are Mike and Kate. Mike gets a new t-shirt and Ranger Jimmy borrows Mike's shirt but doesn't want to give it back. Will the cousins get the shirt back? Read the book to find out!
In my opinion I loved Rangers Rustlers. I loved it because Mike is so funny. He had me laughing throughout the whole book. I also liked Mike because he was always cracking jokes on Kate. They were so funny. Mike reminded me about my brother because my brother is really funny too. He always makes me laugh at home. This book is part of a series. They are similar because they all take place at a ballpark, so if you like sports this is a perfect series for you. I have read three books in the series so far and have loved every one of them.
I think other kids should read this book because it's a mystery and it has a surprise ending. A type of reader that would like this book is a reader that likes mysteries. Something that might interest the reader is that there is a scary part.! Also it's about baseball, so if you like sports definitely read this book!