Diary of a Wimpy Kid
Written by Jeff Kinney
Illustrated by Jeff Kinney
Reviewed by Marco M. (age 9)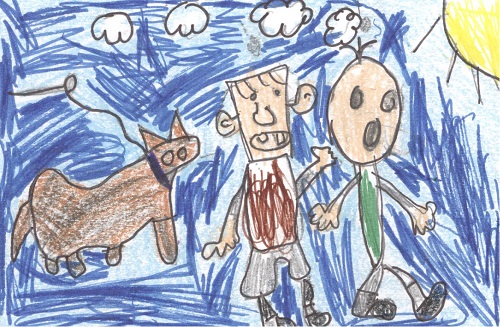 Have you ever been embarrassed? Well, Greg Heffly has. In the book, Diary of a Wimpy Kid, Greg Heffly is trying to survive middle school. This book is full of surprises, especially the surprise ending! In this book you will feel a lot of emotions! Go to your nearest book store and get the whole series!
I feel that the book was good because it was super funny. It made me laugh a lot. There are many illustrations in this book. The illustrations are drawn by the main character, Greg. The pictures show funny sounds, too. I can hear them in my head when I read them. My favorite part is when Greg got chased by a dog, it was really funny. The picture that went along with it was really funny too. This book is the first book of a whole series and in my opinion, it is the best one!
I feel like everybody should read this book because it is really funny. People who like silly books that make you laugh out loud will like this book. Kids in grades 3-5 would enjoy this book. Something that might interest the reader is the surprise ending and how silly it is. This book is also part of a series so after you read this one you can read many more!