Testing Miss.Malarkey
Written by Judy Fincher
Illustrated by Kevin O'Malley
Reviewed by Mallorie S. (age 10)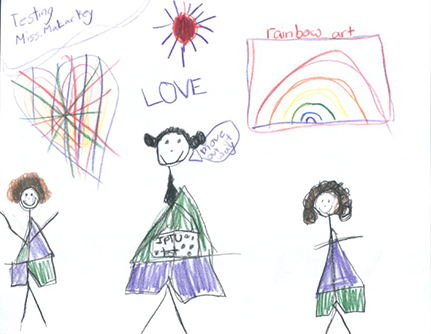 At the beginning of the story Miss. Malarkey starts getting nervous about THE TEST. The students start noticing the teachers acting weird and talking a lot about the brain.Miss. Malarkey makes the students play educational board games at recess time. The test finally gets her and the principle won't stop yelling at everyone. Read the rest to find out what else happens after the test.
I can connect with the story because my teacher is making us do extra assignments to get ready for the test. I also notice that people keep talking about the test. My favorite part of this book is when the principles hair comes off when he waves the flag to start the test. I wonder if anything crazy will happen to my teacher during the test. All the students in the story start to worry a little about the test. I try not to worry, but I know I will be a little like them when the test comes.
I would recommend this book to someone who likes funny things. I also recommend it to students who are nervous about the test like my friends and me.