Trapped in Death Cave
Written by Bill Wallace
Reviewed by Shayna LB (age 9)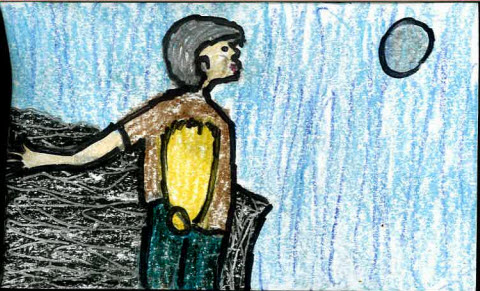 Trapped in Death Cave is about two boys named Brian and Gary. They figured out that Gary's grandpa is dead because someone killed him for his maps that lead to the Snake Dancer's Gold. Read this book to figure out what happens next. Who killed grandpa? Do the boys find the gold?
This book is a mysterious and action packed book. There are a couple of parts where it is funny. The characters are Mrs. Becker, Gary, Brian, and Odie Ralston. Mrs. Becker is my favorite character because she is a very brave old lady and does the unexpected things an old lady wouldn't do. One funny part was when Mrs. Becker got on the motorcycle. It was funny because old ladies don't usually get on motorcycles.
I recommend this book because it is a realistic story, and you never know what is going to happen next. The way the author describes things and added similes make the book exciting. It is awesome!