One Fish, Two Fish, Red Fish, Blue Fish
Written by Dr. Seuss
Illustrated by Dr. Seuss
Reviewed by Damon P. (age 6)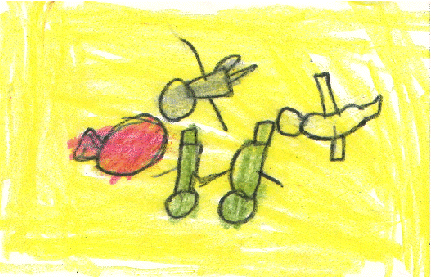 I read a book by Dr. Seuss. He writes funny books. This one was called One fish two fish red fish blue fish. It has lots of words that rhyme. It is a long book. You might want to read it in parts. My teacher helped me for two whole days.
I like this book because I have it at home. I also like fish. In this book the fish are in race cars. Fish can't really race cars, but it will make you laugh. The book is easy to read and I have a lot of Dr. Seuss books at home. They are all very good. I like this book because it is so funny. My favorite is the "How to Cook" page because it has hot dogs. Hot dogs are my favorite food.
If you read this book you will learn how to rhyme. The pictures are very silly. I think you would enjoy this book. Pick it up and read it!