Girl Meets World: Follow Your Heart
Written by Paul Zender
Reviewed by Abigail R. (age 8)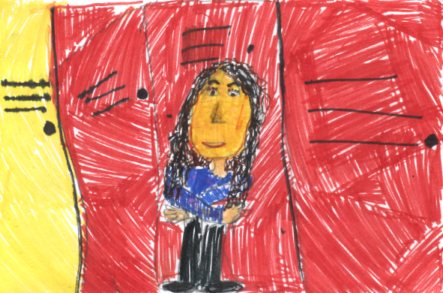 Do you like a book that is funny but can teach you something? Then you should read Girl Meets World by Disney Press. It is about a girl named Riley who faces hard challenges. In the beginning, Riley's crush, Lucas, is hanging around with another girl named Missy Bradford. Then Riley was so upset she squished herself in her locker and Maya and Farkle, her friends, tried to cheer her up. Next Riley and Maya try to come up with a plan to win over Lucas. What do you think is going to happen next? Do you think Riley is going to go out with Lucas? Read this book to find out what happens.
In my opinion Girl Meets World by Disney Press is funny. For example, Riley tries to ''bop'' Lucas on his nose but ends up in his nose. Another reason is there friendship. When Riley stuffs herself in her locker, her friends try to cheer her up. In addition, the book teaches you to work out your feelings. At first I thought Riley was going to be really mad but in the end of the book I understood she just needed to get all of her feelings out. All in all, Girl Meets World is a book you won't want to put down once you get started.
I think kids my age and a little bit older will like this book because it is an interesting book and a funny book all in one. Do you like books that are fiction but also nonfiction? I would give this book 5 stars because it made me laugh and cry a little bit. If you like books a little challenging and a little mature then you should read this book. I highly recommend for you to read Girl Meets World by Disney Press. The book Girl Meets World is a book you won't want to miss.