Sister Magic: Violet Makes a Splash
Written by Anne Mazer
Illustrated by Bill Brown
Reviewed by Claire L. (age 8)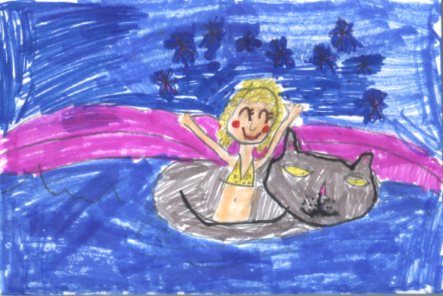 Have you ever seen a pool change shape under your feet? In this book, Violet has magic, but Mabel her sister, wants to keep it a secret. To begin with, Mabel was cleaning out the garage, when Violet decides to help. She snaps her finger and everything is organized. Then Violet makes a baby pool and right under Mabel`s feet, the pool changes to an Olympic - sized pool! Lastly, Violet wants to make a pie for the pie tasting contest. The name of the pie is "Blackberry Surprise." When the judge comes to taste the pie, a million black birds fly out. Do you think that Violet will get caught using her magic or not? Read this book to find out!
In my opinion, Violet Makes a Splash by Anne Mazer is a relaxing book! To start with, Violet (once in a while) is VERY stubborn. For example, Mabel tells Violet to change the pool for HER good, but Violet says no. Furthermore, Violet is very kind. Mabel was trying to clean out the garage and Violet was a huge help. One last reason is that there is magic, Mabel was playing with her ponies, but when Violet makes the ponies come alive things gets a little bit more interesting. All in all, you might get sprinkled with a little magic, but you`ll LOVE this book!
If you enjoy magic, this book is for you! Do you like fantasy? I give this book TEN stars for its magical scenes and stubborn moments. If you ever wanted to have your mind set on a "magical" place this book is for you. I highly suggest Violet Makes a Splash a Sister Magic Series by Anne Mazer. You will get lost in the book once you get started!