Rainbow Magic - Coral the Reef Fairy
Written by Daisy Meadows
Reviewed by Sophia G. (age 9)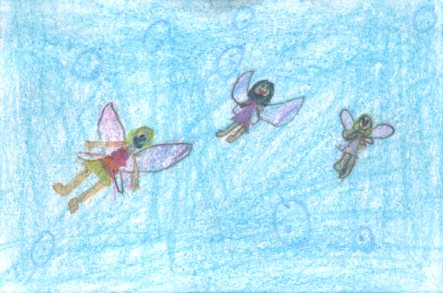 The book Rainbow Magic Coral the Reef Fairy by Daisy Meadows is about two girls named Kirsty and Rachel who meet a fairy named Coral. In the beginning, Kirsty invites Rachel to go to Rainspell Beach. They get to the beach and tell Kirsty's mom that they want time alone. They go for a walk and notice something shiny. Next, they find out that it is Coral! Coral was shivering because she thinks that the goblins have her wand. Coral tells Kirsty and Rachel about her wand and that she needs it to save Fairyland. Then they go in the ocean and swim. They go look for the goblins and find some while they are also looking for the wand! Read this book to find out if they get the wand!
If you enjoy magic, fairies, and coral, this book is for you. One reason to read this book is that even though it is fiction, it gives you a lot of facts about the coral reef. Such as the coral reefs are not statues under water, they are living things. Another reason is this book is also very funny. The goblins don't know anything about the ocean! The last reason I like this book is this is one of the only fairies that can make Kirsty and Rachel breath under water! When you start this book, you won't want to put it down!
I recommend 1st-4th graders to read this book. Do you like the ocean? Do you like fairy magic? If you do, this book is for you. I give it five stars! It is probably the best book of the series! If you have ever gone swimming in the ocean, this book will relate to you. Those are reasons why I think you should read Coral the Reef Fairy by Daisy Meadows.