Shannon's Story
Written by Ann M Martin
Illustrated by Nola Thacker
Reviewed by Meri C. (age 8)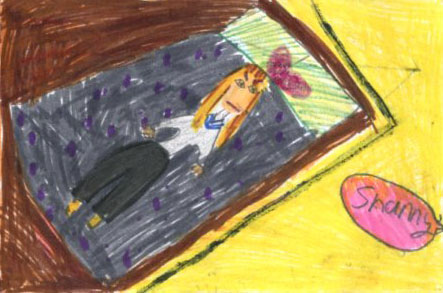 Shannon's Story is a book by Ann M. Martin. It's a book about girl a who is going to Paris but is worried her mom, a chaperone, will ruin the whole trip. To start with her mom is treating her like a baby. '' Shanny ''which is what Shannon's mom calls her is annoyed and ready to go to a whole new continent. But when her mom tells her she's a chaperone, Shannon's shocked. Luckily, she knows a perfect way out of the trip . Maybe too perfect. In the end , things are normal in their town Stonybrook. Since the trip went so well the class is going to go back to Paris. You'll have to read the book to see why this is so good for Shannon. In closing, be sure to read the very last word of Shannon's Story. It just might surprise you.
If you love tension and drama you'll love Shannon's Story written by Ann M. Martin. To begin with, Shannon, a 7th grade student at Stonybrook Middle School says her mom is driving her crazing. It's pretty funny but not at all funny to her. Soon her mom tells her ''I'm your chaperone'', which is so surprising but a nightmare for Shannon and her trip to Paris. Eventually, she stirs something up that might be for the best or might leave her frowning. It is a pretty weird idea. In the end all the tension has stopped and things are good at Stonybrook.
Shannon's Story by Ann M. Martin should be read by someone who loves a little bit of mystery and drama. Do you like mystery and drama? It really is a good book especially when she is doing silly stuff like making up silly games with Maria [her sister]. On a scale of one to ten it might be a nine because it's pretty good but it could use a little more detail. I recommend this book to 3rd through 5th graders. It's a bit of a challenge but reasonable for 3rd to 5th. I definitely recommend this book and I want to read it over and over again.