Scaredy Squirrel at the Beach
Written by Melanie Watt
Illustrated by Melanie Watt
Reviewed by Kaitlyn G. (age 8)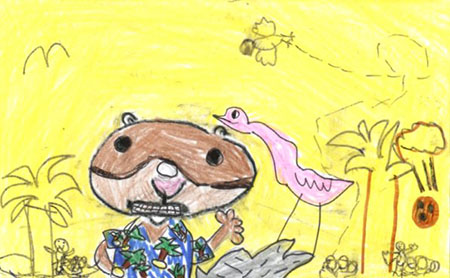 Have you ever in your whole life see Scaredy Squirrel? You haven't? Well you must read Scaredy Squirrel at the Beach, by Melanie Watt.
Scaredy Squirrel is so scared of a lot of things. For example, he's afraid to leave his tree because he's afraid of jellyfish and the crowds at the beach. Will Scaredy Squirrel go to the beach? Or will he stay in his nut tree? Read on to learn more about Scaredy Squirrel.
Scaredy Squirrel loves to be prepared for danger in case he gets hurt. For example he puts oven mitts on to protect from germs. He even uses rubber bands to tame lobsters. It is funny to learn about all the ways that Scaredy Squirrel protects himself. I really like how the illustration on the cover kind of pops out. Scaredy Squirrels teeth pop out and are cool to touch. The book also reminds me of the beach and how sometimes I'm scared of the seagulls just like Scaredy Squirrel.
My favorite part is when Scaredy Squirrel sees a crowd and screams VERY LOUD! It's funny when the crowd comes in. Scaredy Squirrel plays dead for 30 minutes…1 hour…2 hours! When he gets up he finds a sea shell right under his nose and is surrounded by friendly people and decides to stay at the beach.
If you like squirrels, then you will enjoy this book. I recommend this book to all people who like to laugh a lot. Find Scaredy Squirrel at the Beach by Melanie Watt the next time you go to the library. Good luck! Now please, please, please go find that book!