Little Soup's Bunny
Written by Robert Newton Peck
Reviewed by Miriam P. (age 7)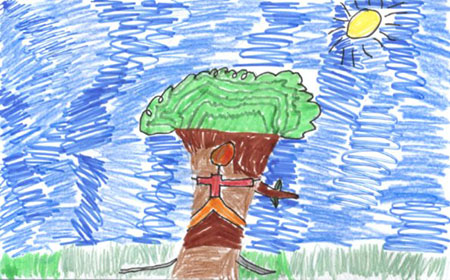 Little Soup's Bunny is a book that takes place on a farm in Vermont. There are two boys, one named Soup and his friend Rob. Soup is funny and totally crazy with his ideas. Rob is just like Soup, he also gets into trouble, a lot. One day Soup gets a bunny and that is when the trouble really starts. Bucky the bunny gets lost. Will they find the bunny or not?
I like this book because it is really funny and it makes me want to own a bunny. Also it is a little bit of an Easter book because they were coloring eggs. I like to color easter eggs, the colors are great. This book is one of the best books I have ever read. It makes me want to go back to visiting a farm. Farms have lots of animals and they can provide food for you. Soup and Rob got the eggs from their own chickens. It's great because the characters make me feel cheerful and they make me laugh. This book reminds me a bit of Geronimo Stilton, he gets into a lot of trouble too.
I recommend this book to kids who like funny, funny books and who like finding hidden bunnies.