A-Z Mysteries The Empty Envelope
Written by Ron Roy
Reviewed by Lily M. (age 8)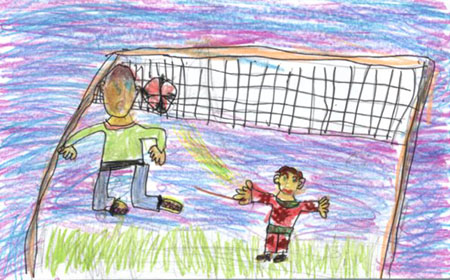 Dink, Josh, and Ruth Rose are on their fun and exciting mystery! Dink has Josh and Ruth Rose to help him with his mystery. Josh likes to eat. Ruth Rose dresses all in one color including her headband. The fifth envelope has something fishy with it. It's empty but it has something behind the stamps. Read to find out what happens. I think Dink, Josh, and Ruth Rose are curious, excited, happy, and sometimes playful. They are best friends and they want to help each other whatever comes their way.
I like this book because Ron Roy has a series called A to Z Mysteries. The series always has a new crime to solve. This book connects to my life because I love solving mysteries. And I have mysteries to solve at my house, a lot of them. Ron Roy is a great writer. I bet he knows a lot about mysteries because his books are very suspenseful. Once you get into the story the crime unfolds but you don't know who did it until the very end. My favorite part was when they get to drag the criminals off to jail. I can't tell you who it is because that is telling too much.
I would recommend this book for ages 5-18 because they might like mysteries too. And they might want to learn more about solving a crime.