Roar of the Crowd
Written by Rich Wallace
Reviewed by Miles D. (age 8)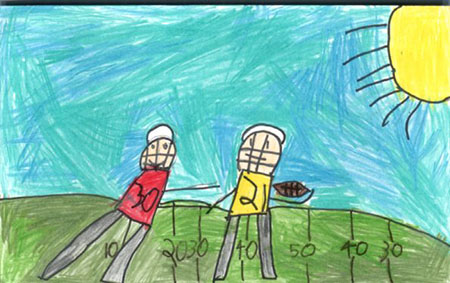 If you want to get lost in a book you should read Roar of the Crowd.
Manny lives in New York City. He is approximately 11 years old. He plays in a football league and is on the defensive kick off team. He makes a very big mistake and the error affects his whole team. Manny does not get a lot of playing time on the field. He doesn't always feel like part of the team. The error causes the other team to get a touchdown.
I really liked this book. I felt like I was in the book because it was so detailed. In some parts I felt worried and in other parts I felt excited. For example, I was worried when Manny made a mistake. I was excited when he scored. I really wish there had been illustrations. Pictures would have added to the story. This book reminds me of the Jake Maddox Series because they both are about sports (football) and have one specific character. I recommend the Jake Maddox series. One con about Roar of the Crowd is you can get mixed up easily. Another pro for this book is it is very realistic.
I would recommend this book for kids ages eight to ten because it is a medium reading level. I rate this book five stars out of five.