Flora and Ulysses:The Illuminated Adventures
Written by Kate DiCamillo
Reviewed by Emilia R. (age 8)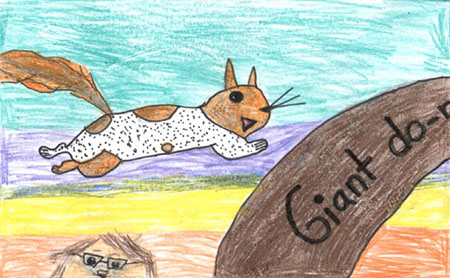 There is one book you have to read (I will be mad at you if you don't)! Now get over here and read "Flora & Ulysses! It is awesome.
There are two main characters in this story. Flora, is a girl who is a cynic. The other main character is a an unassuming squirrel. Flora sees a woman who vacuums up a squirrel who is Ulysses, this is the unassuming squirrel. Flora has an interesting life. For example there is a boy named William who very annoying. He says he's temporally blind. One day, Ulysses, the squirrel is gone. He was kidnapped or squirrel-napped or something. Flora thinks Ulysses is a super hero because he is not a flying squirrel, but yet, he can fly. Will Flora find him when he's lost? Will Flora see him again? Read the book to find out.
I like this book because it is funny. Another reason this book is fun to read is because it has comic strips in it. Also I like it because it has lots of crazy things. For example Flora and Ulysses go to a restaurant with giant donuts. It does not relate to my life because who would have a squirrel with almost no hair for a pet? Also I would not have a father named George Buckman.
I would recommend this book because it is funny, interesting and cool.
Emi rates this book 5 out of 5 stars.