The Kissing Hand
Written by Audrey Penn
Illustrated by Ruth E. Harper and Nancy M. Leak
Reviewed by Liam H. (age 7)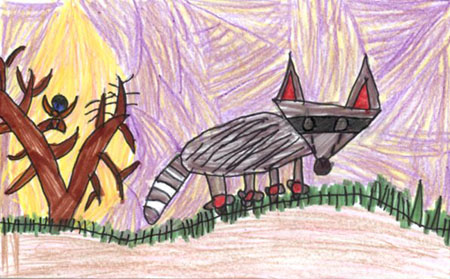 This book is about a raccoon named Chester and his mom raccoon. Chester doesn't want to go to his new school. He is scared. His mom does something to him to help him out. When you read this book you will learn what Chester's mom teaches him. It will help you to have someone be with you no matter where you are.
I like this book because it is my mom's and my favorite book. We read it together a lot. When we read it together I am happy, we get to be together and enjoy the story. I also like it because I get to learn a new type of kiss. Chester is sad in the beginning of the story but then he learns to be happy wherever he goes. I think it would be a good book for you to read because it is a sweet book, it makes you feel good about everything. It is a good story to read with someone. The illustrations in this book are imaginative.
I would recommend this story to all ages. It is great to have someone you care for read it to you at night. It makes you feel special.