The Chocolate Touch
Written by Patrick Skene
Illustrated by Margot Apple
Reviewed by Erika F. (age 7)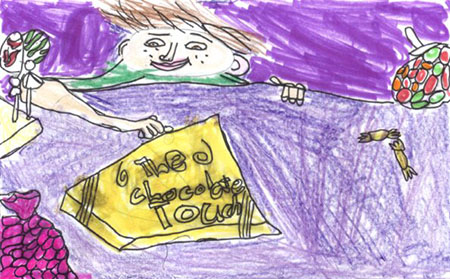 In the Chocolate Touch the main character is John Midas. He loves chocolate, he probably would eat it for breakfast, lunch and dinner. He'd do anything to get it. One day John sees a chocolate bar that he would like, but when he eats it some odd things start to happen. Find out what chocolate can do to you.
I like this book because John Midas just loves chocolate and cannot resist it. At the end he says no more chocolate please, why would he say that? I love The Chocolate Touch because I love chocolate myself. I am only allowed to have a little chocolate but like John I want more. This is a great book because it is a fun little story that talks about chocolate, all about chocolate. I learned that when you eat something you don't want to eat it all of the time because you can get tired of it.
I recommend this story because it is relaxing to read. I think that this story can really make you want to laugh. It is so funny when John eats all these crazy things.