Henry and Mudge Get the Cold Shivers
Written by Cynthia Rylant
Illustrated by Sucie Stevenson
Reviewed by Grace K. (age 7)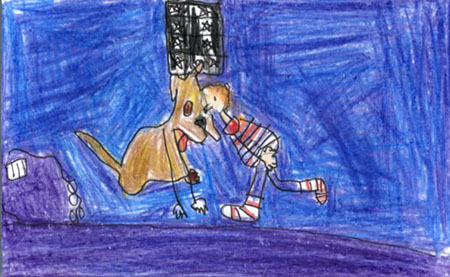 Do you like dogs? If you do, you will like this book. Henry and his dog Mudge are best friends. They go on many adventures together. This story takes place in Henry's house. Henry gets sick and usually his dog Mudge likes that, this time things are different. Read this book to find out.
I love dogs and that is one reason I would recommend this series to all dog lovers. I like the Henry and Mudge series because they are humorous. I like Henry and his dog Mudge, they would be fun to hang out with. Mudge is such a hilarious dog and he loves to eat other food beside his own dog food. Mudge is lovable and is nice to new people who come to the house. He jumps up on them and he is so big he is as tall as they are, that is funny.
I recommend this book to people aged 6 to 9 who like big dogs or any dog. You can learn how to be a good friend when you read this book. It will help you in your own life.