Cam Jansen and the Mystery of the Carnival prize
Written by David Adler
Reviewed by Finn M. (age 7)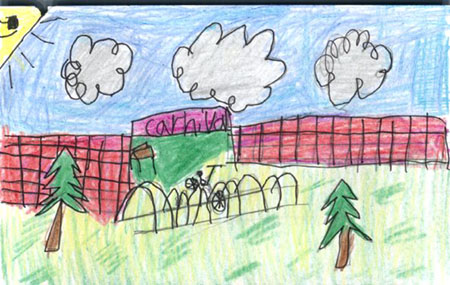 Cam Jansen and the Mystery of the Carnival Prize is about three kids trying to find out how all these people keep winning the dime toss at the Carnival. Is it luck or is someone cheating? Cam Jansen, the main character, she always solves some mystery in this series. She has a photographic memory which helps a lot when on a case. She has friends who help her with the case but mostly she does it herself.
I like this book because it has mysteries and I like mysteries because you never know what's next. Another reason I like this book is that it's at the carnival and you get to play games and win cool prizes. It reminds me of the summertime and going to The Yarmouth Clam Festival. It was silly at the trivia booth when the girl running it said how fast can an elephant run. You don't think of elephants running all that much. Mysteries are one of my favorite genres. They make me interested and want to know the ending, fast.
I would recommend this book to age 4 to 10 and to anyone who likes a mystery book. The illustrations are good too even though there aren't so many of them.