Magic Tree House-Earthquake In The Early Morning
Written by Mary Pope Osborne
Reviewed by Ingrid B. (age 8)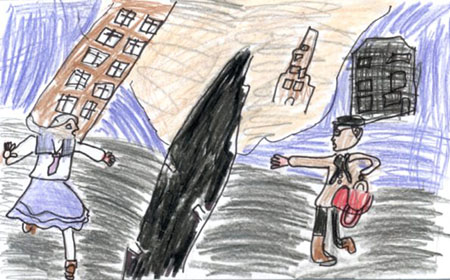 Jack and Annie love adventures in the Magic Tree House series. The two of them live in Pennsylvania and they have a magic tree house that helps them go into the past. When they are in the past they have to always find something that will help them solve a riddle. For example, in Earthquakes in the Morning, they have to get something to lend, but what is it? Read to find out.
My favorite part is when they find something to lend to the librarian of the tree house. I wonder what your favorite part will be. Maybe you might like the part when Annie falls into the crack in the road. That was interesting because there was a huge earthquake that made everything unsafe. Jack and Annie like going into the past and you learn so much about it when you read these books.
I recommend this book because it has good words and good pictures and facts in it. You never know what is going to happen next.