Diary of a Minecraft Zombie
Written by Zack Zombie
Reviewed by Gavin H. (age 8)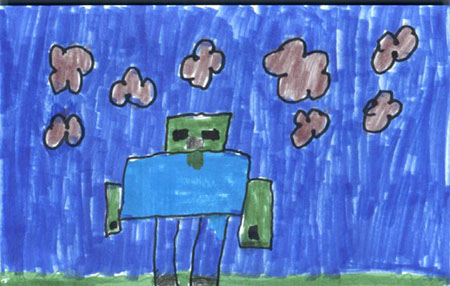 This book is a very funny book. It is about a zombie that has some friends named Steve, Skelee, Creepy, Slimey, and Sally. The zombie has a big and little brother. He likes to play with his friends, too.
I think this book is a funny book because it made me think of Rodrick from the Diary of a Wimpy Kid series. It made me think of him because sometimes Zombie acts like Rodrick. I like Zombie's friends because they're funny. My favorite part of the book was when the Iron Golem was going to smash the zombie. I liked it because it was unexpected. My favorite character is Creepy the creeper because I like creepers.
I recommend this book to 2nd graders and up. This is a good book because it is a lot like Diary of a Wimpy Kid books. This book is really funny.