Rise of the Serpentine
Written by Greg Farshtey
Reviewed by Antonio V. (age 8)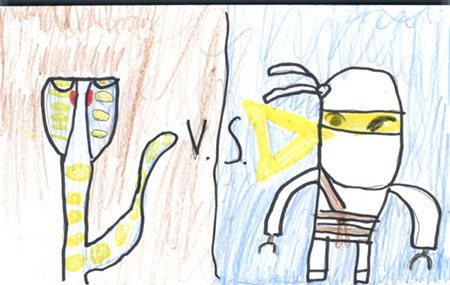 Rise of the Serpentine is a fiction book about four ninjas named Jay, Cole, Zane, and Kai. They try to defeat a tribe of snakes called the serpentine. Their teacher, Sensei Wu sent them on a mission, but it feels like a vacation to them. Once Jay went to the town hall and nobody is there. Suddenly, he hears a thump. He finds a hypnotizing snake! Later they go into a warehouse and Jay gets hypnotized. Read this book to find out if they can save their friend or if more of them get hypnotized.
I liked this book because it reminded me of when my grandmother died. I also liked this book because it reminded me of my best friend in kindergarten. After first grade, my friend moved away, and now I remember him. My favorite part of the book was when Kai and Zane rescued Jay and Cole. I felt excited to see what would happen next as I read the book.
I recommend this book and series to people who like adventures. I also recommend it to people who like books where there are good guys and bad guys.