Peyton Manning
Written by James Buckley
Reviewed by Bryson S. (age 10)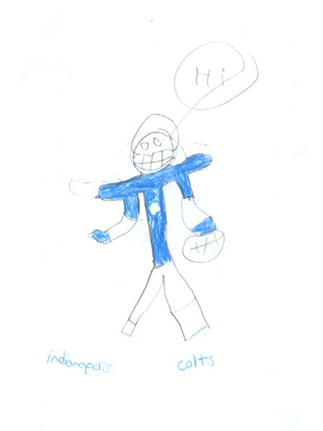 Peyton Manning is a star quarterback who played for the Indianapolis Colts. He currently is playing for the Denver Broncos. Peyton Manning was born on March 24th 1976 in New Orleans and has two brothers. Peyton's dad played on the Saints as their quarterback. Peyton grew up around football. He was a National Player of the Year while playing for Isidore Newman in high school. He went on to play for the University of Tennessee. While there he set many passing records and had a lot of success. Peyton continues to experience success in his professional career setting many all time records.
I think that Peyton Manning is a good Quarterback but he is not my favorite one. He has set good examples for little kids to follow. For example, he has practiced hard all his life, playing with his dad and brothers. He proves that hard work pays off. He has also done things for his community. He set up the Peyback Foundation to help kids all over America. I can relate to Peyton because I have dreams to be successful, too. I want to be able to give back to my community.
This book is dedicated to all the fans of Peyton Manning. Students in 3rd grade and above can read this book.