Madeline's Christmas
Written by Ludwig Bemelmans
Illustrated by Ludwig Bemelmans
Reviewed by Alyssa O (age 5)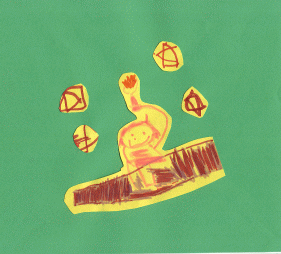 This is a story about Madeline and her friends and a magician at Christmas.
Madeline is my favorite character because she is cute and has red hair. I did not like it when she said "pooh pooh" to the tiger at the zoo. She should have said(to the tiger)"Be nice to my friends." I liked it when the magician made the carpets fly. I would like to do that. Madeline took care of the magician when he was cold. She did something nice for him, so he does something nice for Madeline. He made the magic carpets fly so the girls could all go home for Christmas.
I would say "Let's read this book together because it is fantastic." It is great because it is a "helping" story at Christmas.
(This review was dictated to an adult.)