Commander Toad and the Voyage Home
Written by Jane Yolen
Illustrated by Bruce Degen
Reviewed by Alexander M. (age 7)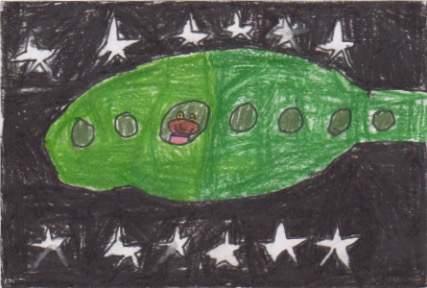 A commander named Commander Toad has a crew. They are Mr. Hop, Lt. Lilly, and Jake Skyjumper. He has been in space sooo long that he tries to go home. But the ship that he has goes to a different planet that is full of water. The ship's alarm sounds. Commander Toad says, "I don't like the look of that planet." Then he said, "We should circle this planet. My great grandmother was the best jumper in the world and she said to look before you jump." There is one brown spot…they land on it. Commander Toad trips on a lump and falls in a hole. Will he ever get out? Read the book to find out.
I think the author used very detailed words like "slowly the star warts (the name of the ship) circles from pole to pole." My favorite part was when Commander Toad got out of a deep, deep, deep hole. I think the book was great because it had lots of description in it. On a scale of 1 – 10, I would give this book an 8 because it takes place in space and I love space. It is funny. When the alarm sounds, there are Christmas tree lights that start going on and off. Usually there are not Christmas tree lights. I learned that Commander Toad does not have many friends.
I recommend this book to people that like space because the book is about space. If you like books by Jane Yolen, this is the book for you. If you have not seen space, you would like this book too.