The Black Stallion
Written by Walter Farley
Illustrated by Keith Wards
Reviewed by Lark M. (age 9)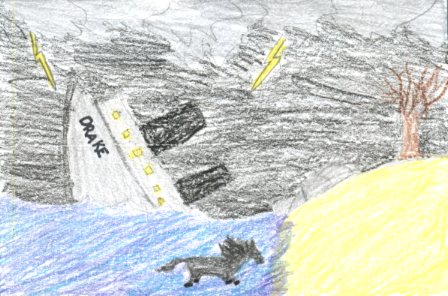 Have you ever found something that you've always dream of? Well, when the boat Drake gets shipped wrecked there is only two survivors left, Alec Ramasay and the Black Stallion. The Black Stallion is all that Alec has ever wanted. He saves Alec's life and brings them to a deserted island. Survival is hard. Alec is determined to train the Black Stallion. He thinks its going to be easy, but his thoughts are wrong. Read the book to find out more.
I think this is a terrific book because it is full of action and adventure. I enjoyed this book because it made me never want to put it down, like when the race was happening. My favorite part was when the race happened because it was entertaining and exciting.
I think others will like this book because it kept me entertained with the adventure in it. Action lovers will enjoy this book because it is packed with adventure, there is a lot more to the story. If you want to know what happens run out and get this book today.