Drama
Written by Raina Telgemeier
Reviewed by Nina G. (age 10)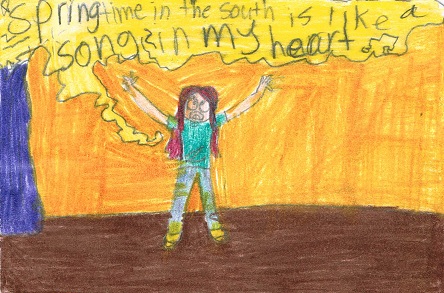 There is a girl named Callie who really loves music and acting, but she can't sing very well and does not know a lot about music and acting. When she tried out for the school musical, she did horribly. Other people did horribly but some did great! When she did badly the judges wanted her to do stage crew. So she accepted it. During stage crew she found a lot of awesome costumes in the costume room, painted, and built things for the set for the play. When the play was finished, they were ready and prepared with all the stage sets. If you want to find out more about the book you must read it.
I think this book is fantastic because sometimes things get out of hand and get weird. Also I liked it because it is funny and has some love in it. I also really like the characters Matt and Callie because they are the weird ones, and they have a lot of really awkward things go on with them. They are weird because they act weird sometimes. For example, they make weird faces and have weird conversations. An awkward thing that the characters see a lot is kissing. One thing that is unique about this book is that it is a graphic novel. You might think this book is great too.
I think kids 3rd grade and up should read this book because there might be some words that are too complicated for younger kids and there are a lot of crazy love situations in it. There is also a lot of "drama" in the book. They talk about stuff that happens in middle school or high school, like dating and boyfriends. Sometimes the characters use strong words that can be hurtful to people. I also think readers need to have patience with the book because it takes a long time to get to one point. Someone who loves weird and wacky things should read this book.