Stone Fox
Written by John Reynolds Gardiner
Illustrated by Marcia Sewall
Reviewed by Mila R. (age 8) & Mark C. (age 9)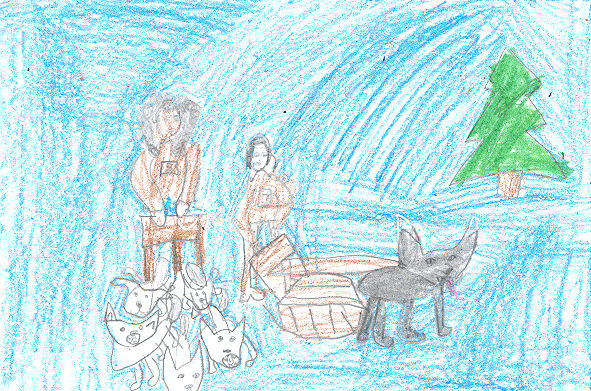 Do you like dog racing in the snow? Then Stone Fox by John Reynolds Gardiner is a good book for you.
To begin with, there is a boy named Willy who lives with his grandfather. His grandfather becomes very sick and Willy finds out that it's because they owe money for the taxes on their farm. Willy decides to enter a race with his dog Searchlight to win money to save the farm. But there is a big Indian and his name is Stone Fox. He is racing to get his homeland back for other Indians. He wins all the races in the area with his white Samoyeds. Will Willie and Searchlight be able to beat him?
In addition, our favorite part is when during the race his grandfather got out of bed looks out the window and cheers for Searchlight and Willy. This gave us hope that his grandfather would be all right. Our least favorite part was when Willy and his grandfather had to pay 500 dollars and Willy's grandfather felt like dying. He was afraid that if he did not pay he will lose his farm. Willy feels sad because his grandfather feels like dying. Our favorite character was Searchlight the dog. He was such a good pet to Willy and a great racing dog.
In conclusion, we recommend this book to kids who like sled-racing and winter stories. You will love this book if you give it a try!