Franny K. The Invisible Fran
Written by Jim Benton
Reviewed by Mark C. (age 9)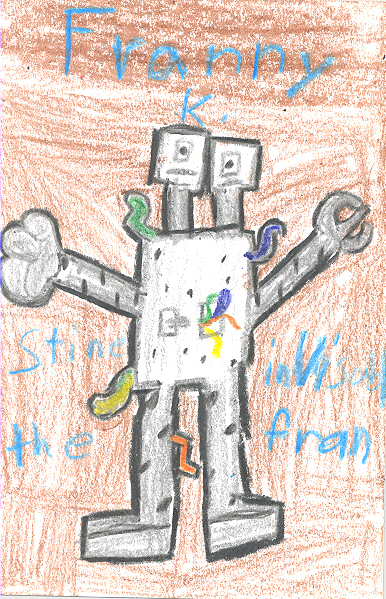 Have you ever met a mad scientist? You would like Franny K. Stein Mad Scientist: The Invisible Fran by Jim Benton if you'd like to meet one!
To begin with, you can tell at the beginning of the book that Franny is a mad scientist. She has a machine that can pull your eye out and see the inside of behind your eye. She invents a lot of crazy things. One of her inventions almost killed her! There are so many exciting parts so you would always want to know what will happen next. In the story, Franny invents a robot and an invisible potion. She helps some of her classmates become mad scientists too, but then they work on the robot and things go wrong! The robot tries to destroy the school! They have to come up with a way to fix it together.
To begin with, some parts of the books are really exciting. The most exciting part is when Franny K. finally turns invisible. The worst part of the story is when Franny gets hurt. It reminded me of a time I got hurt and that is not fun to remember. I think this is a great book because of the crazy events. A robot that writes graffiti that is spelled wrong and puts huge spitballs on the ceilings is really crazy!
In conclusion, second graders and older should read this book because it is a high level book. I think everyone will love reading it!