Cam Jansen and the Mystery of Flight 54
Written by David A. Adler
Reviewed by Sophia L. (age 8) & Ekaterina S. (age 9)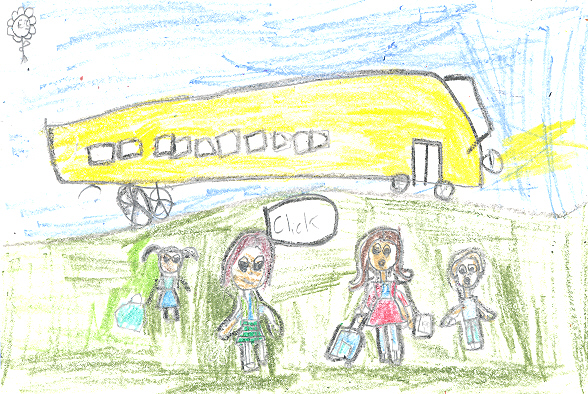 ''Off we go!'' If you like a good mystery, this is a book for you. The book title is Cam Jansen and the Mystery of Flight 54. This book was written by David A. Adler and illustrated by Susanna Natti.
To begin with, this story is about a mystery of a lost girl in an airport. In the story, the people are Cam Jansen the detective, her best friend Eric, Cam's Aunt Molly, Cam's parents, a missing girl named Simone and her family. Cam and her family are at the airport to pick up her Aunt Molly who is just coming from France. When they are there, they meet a family who can't find their daughter Simone. Cam and Eric have to solve the mystery and find her.
In the story our favorite part was when the airport people announced to come to the front office in English and French. We thought that was strange because Simone only understands French so why even bother with English? That made us laugh really hard. We felt clueless when we read this book because we always feel clueless when we read mystery books. We had to wait for Cam and Eric to find real clues to solve it. We didn't like the illustrations in this book. They were black and white so we didn't think they were the best illustrations for the book.
In conclusion, we really liked this book because mysteries are fun to read. Find this book at your library today!!